Hello, fans around the world, and welcome to our coverage of the 2014 Olympic hockey trade deadline. With all national rosters due today, this is the last chance for countries to trade players before locking in their lineups.
Rumors have been swirling for months and the tension is high, so let's go live to our studios as we count down to the deadline …
***
OK, we'll stop right there. Clearly, the entire premise of this column is ridiculous. The Olympic hockey trade deadline doesn't exist, and never could. It wouldn't even make any sense. After all, player eligibility is determined based on a detailed set of rules; that's the whole point. If stars suddenly started suiting up for different countries at major international tournaments, hockey fans wouldn't stand for it. So clearly, there can be no such thing as an Olympic trade deadline.
But what if there were? You're telling me that a trade deadline wouldn't make an already fun tournament even more entertaining? You wouldn't spend weeks obsessing over possible moves as the deadline approached, then call in sick when the actual day arrived? At the very least, it would give the various general managers something to do besides picking an all-star roster, immediately apologizing for it, and then having a camera isolated on them during every game while they look like they're undergoing cardiac arrest.
So yes, this whole thing is silly, will probably result in the majority of the world's population hating me, and risks turning into the worst HFBoards thread ever. But that doesn't mean we can't waste a few thousand words on it. Who's with me? That's what I thought. We now return you to our trade desk …
***
And we're back. There could be plenty of action today, as the top contenders are all looking to load up. Russia is under tremendous pressure to win gold on home ice. Team Canada, as always, will either win gold or be considered a national disgrace. Team USA will be looking to build on a surprising 2010 run that saw them fall just one goal shy of winning it all, while Sweden's aging core wants to get back to the top of the medal stand one last time. And what about the quasi-contenders? Will they try to compete with the big boys, or look to rebuild for the future?
Anything can happen. Remember, everyone is eligible to be moved, including players who didn't make their country's final roster. And based on the flurry of cell-phone checking that's currently going on behind me, we appear to have our first deal of the day. Cue the overly elaborate, swooshing "breaking trade" graphic.
Canada trades forward Logan Couture to Finland for goaltender Kari Lehtonen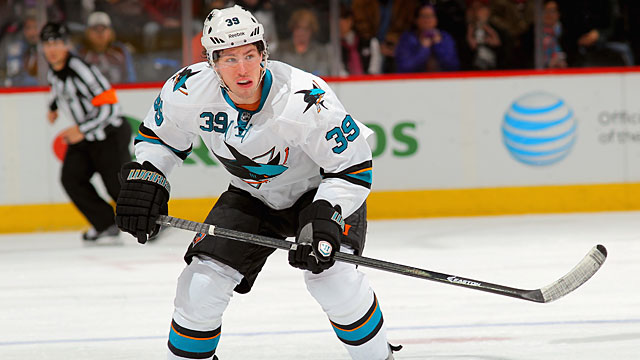 On the surface, this one-for-one swap makes a lot of sense. Canada's roster is stacked as always, but goaltending is still an area of concern. Carey Price has looked fine and Roberto Luongo won gold four years ago, but the country has been falling behind the rest of the world in goal for years, and the days when it could bank on an obvious choice like Martin Brodeur or Patrick Roy are long gone. With Luongo's health status suddenly in question, it's not surprising that it wants to add some depth at the position.
Lehtonen will give Canada a safety net and could push for the starter's job if Price falters. He's far from a sure thing, but he's arguably the best goalie who'd be available. And Finland can certainly afford to move him, with Tuukka Rask already firmly established as the starter and Antti Niemi backing up.
The move doesn't come cheap for Canada, as Couture has already emerged as an excellent two-way player at the age of 24. But for whatever reason, Team Canada didn't seem high on him, and he was a somewhat surprising omission from the roster announced today. So he goes to Finland, which is considered a long shot to win a medal this year, where he can step in and play on its top six right now as well as in 2018 and beyond.
Canada has made an early blockbuster move. Which will be the next teams to pull the trigger? Apparently we won't have to wait long to find out, because we have another deal coming across the wire.
>> Read the full post on Grantland