Welcome to November, hockey fans. The good news: We made it through the first month of the season, we're now just two months from the Winter Classic, and we're finally done with the incessant crowd shots of fans wearing Halloween costumes.
The bad news: There's a good chance you're now cheering for a team that's completely and utterly doomed.
That's according to an eye-popping stat that the CBC's Elliotte Friedman unveiled: NHL teams that find themselves four points or more out of a playoff spot on November 1 almost never recover to make the postseason.
On the surface, that seems like it can't possibly be right. Four points is just two wins. Teams can't make up two wins over the course of roughly 70 games?
Not really, as it turns out. Friedman took a deeper look in his weekly "30 Thoughts" column.1 In the seven seasons since the 2005-06 lockout,2 only three teams have managed the comeback: the 2006-07 Flames, the 2010-11 Sabres, and the 2011-12 Bruins. That's it. Every other team that was four points back when the calendar flipped over was a dead team walking.
As you may be aware, today is November 1. And a quick look at the standings shows that eight teams are currently in Friedman's danger zone, four points (or more) out of a playoff spot.3 Abandon all hope, ye who enter here.
Or maybe not. Here's a look at each of those teams and my best guesses as to whether they can beat the odds.
Buffalo Sabres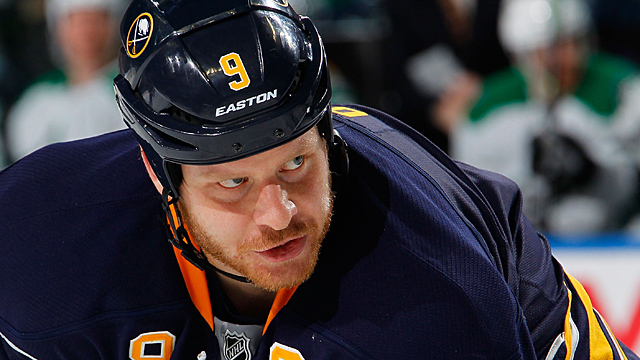 Current record: 2-12-1
Points back: 11
How they got here: The Sabres are awful. Buffalo spent heavily when new owner Terry Pegula came aboard in 2011, but has still missed the playoffs for two consecutive years. The Sabres fired longtime coach Lindy Ruff last season, and GM Darcy Regier may be next. Apart from star goalie Ryan Miller, the roster is a mishmash of terrible contracts, teenagers,4 borderline AHLers, and Cody Hodgson.
Buffalo was expected to struggle, and it has. So far this year, when the Sabres haven't been embarrassing themselves and the league with goon tactics, they've been losing. Or both. Come to think of it, mostly both.
Is there hope? No. At least not for this year.
The Sabres already traded Thomas Vanek this week. Miller, a pending free agent, will almost certainly be dealt at some point. Anyone else with a pulse and a tradable contract5 will follow. The Sabres are bad now, but by the time the trade deadline passes, the roster may look like an ECHL club.
And all of that is OK. The Sabres are rebuilding, and so far they're doing it fairly well.6 NHL GMs love to talk about staying competitive and fighting for every point and reloading instead of rebuilding, and that's great if a team can pull it off. But sometimes they just need to finish dead last for a year or two and hope the draft lottery goes their way. That seems to be the Sabres' plan right now.
Prediction: The Sabres contend for last place overall this year, and probably in 2014-15 too. By this time next year, every Buffalo fan has a Google alert set up for Connor McDavid.
>> Read the full post on Grantland